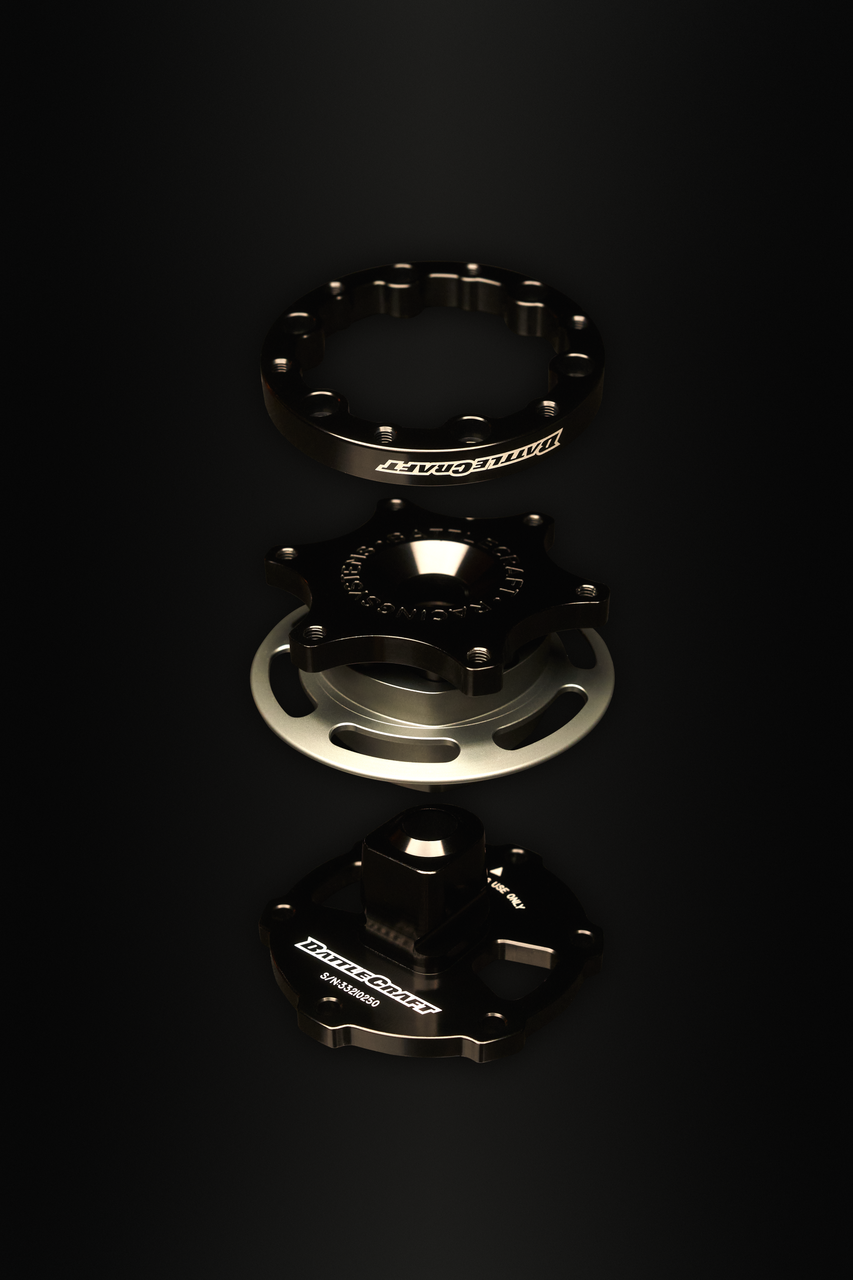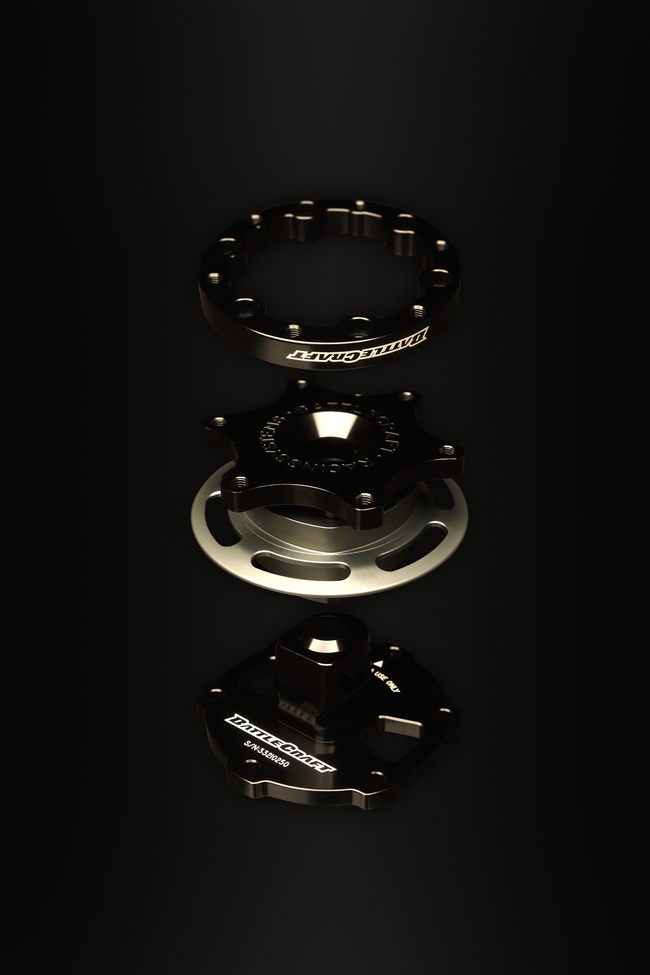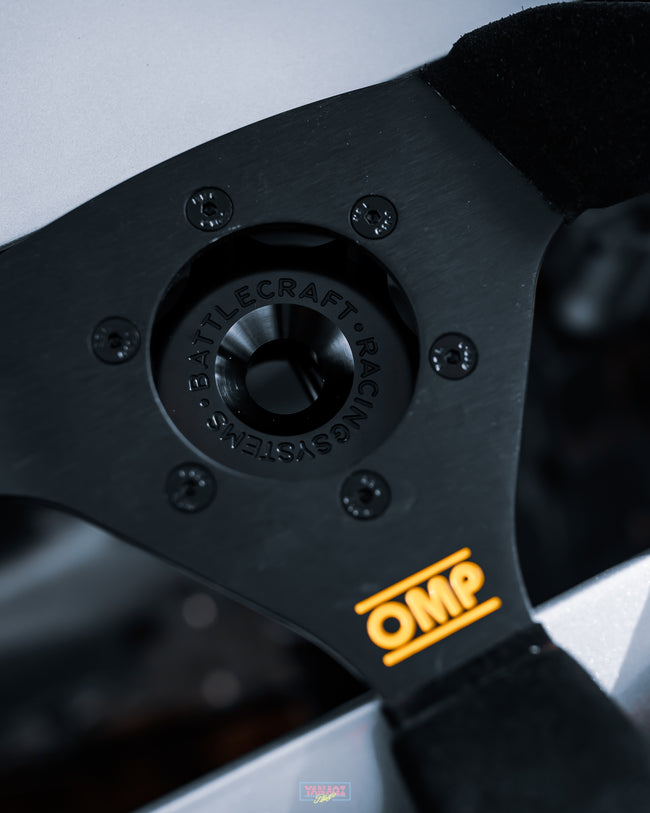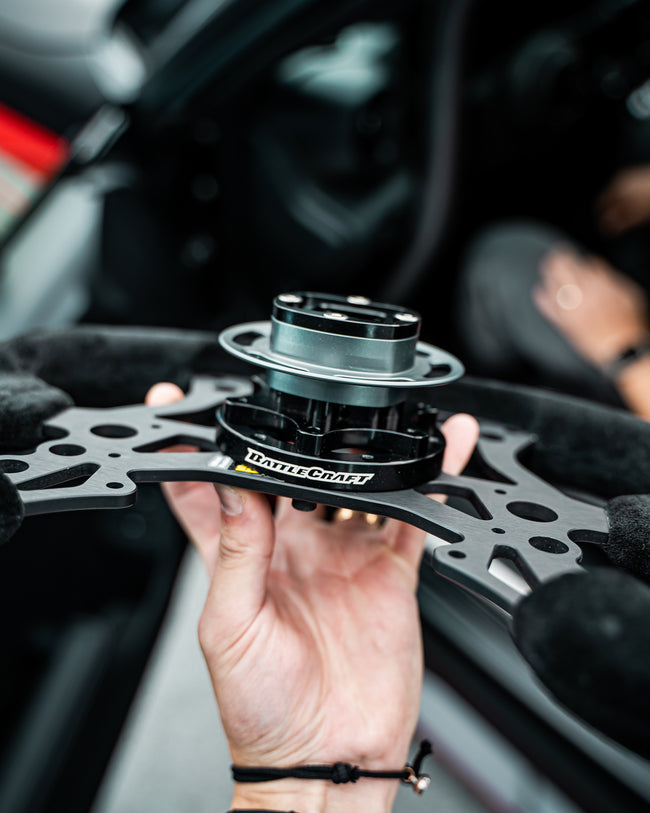 The Hyper RQR (Race Quick Release) was developed for racing use with low weight in mind and style you only expect from BattleCraft. The lock and release mechanism was derived from Porsche factory GT3 race cars and has been meticulously re-engineered to suit our liking of snap and release. Two years and eight revisions later, we developed the perfect combination of tolerances, spring tension, and surface engagement for proper safety and feel. The tapered receptacle on the base and top pieces are machined in pairs to ensure tolerances always match and are designed so they only get tighter over time. 
Weighing in at 340g (288g without adapter spacer), the Hyper RQR is currently the lightest bolt-on steering quick-release on the market. The overall stack height of the unit is approximately 47mm without, and 57mm with the adapter spacer. Each unit is laser engraved with various details, logos, and individually serialized. The adapter spacer lifts your steering wheel off the face and provides a unique visual depth and view of the RQR face, which is CNC engraved with "BattleCraft Racing Systems." 
Both the base and the face of the RQR utilize a 6 x 70mm bolt pattern and will bolt to most if not all, common aftermarket steering hubs. The adapter spacer will convert the face bolt pattern to 6 x 74mm. The RQR has been confirmed to work with Momo, Sparco, Nardi, Personal, Tanida, OMP, ATC wheels, and all other brands associated with said manufacturers. Depending on the wheel being used, the hardware will either use the spacer adapter to convert the bolt pattern to 6 x 74mm or pass through to use the original 6 x 70mm bolt pattern. Hardware is included for both options.
The RQR was designed not to use a standard horn button, but we have confirmed that a horn button can still be installed with inner horn rings like those included with Works Bell steering hubs. There are no standard wiring provisions to use a standard horn button, but we are working on a curly cord wiring kit like those used in race car applications and will offer those at a later time.
Please note: due to the tapered design of the locking mechanism, the RQR can seem hard to detach at times. This is not a defect and is easily resolved by using one hand to pull and hold the locking ring open while using the other hand to tap the grip of your steering wheel from the side.
Muoi Tran: VTEC Club Night Event 2018
Sassy "I'm too cool to run stickers" Caputo: VTEC Club Night Event 2018
Muoi Tran: VTEC Club Norcal vs. Socal - Buttonwillow Raceway 2018
Kemritte Seang: Narita Dog Fight 2018