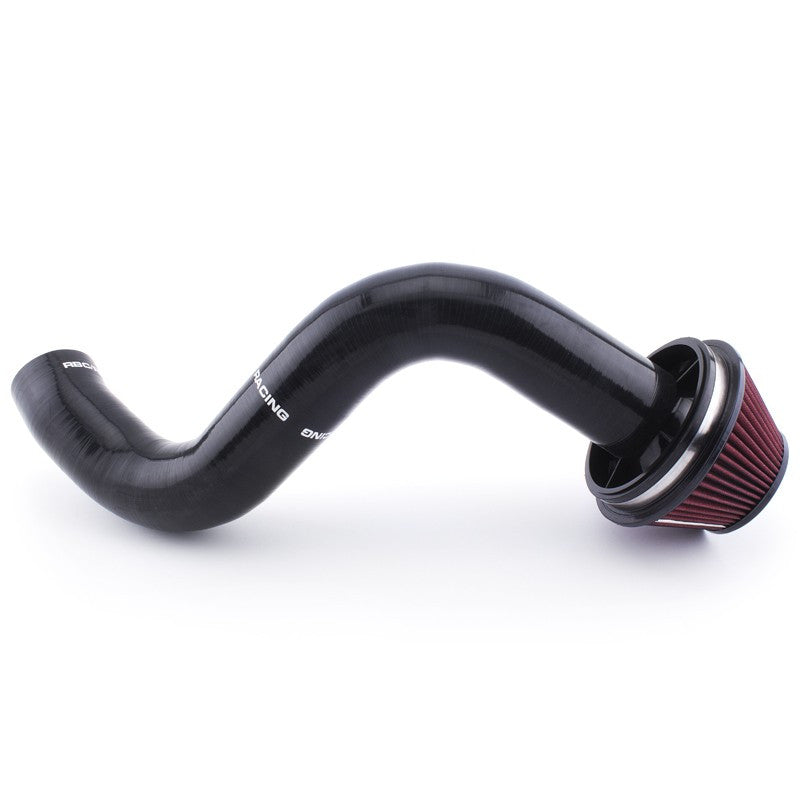 Free Shipping within the USA!
Hybrid Racing took a somewhat unconventional approach when it came time to design this K-Swap cold air intake. They set out to provide something that could improve upon the performance and appearance of competing cold air intakes...and the finished product is just that. This is a true 3" intake that does a better job of keeping your intake charge cool and your engine bay looking hot.
The most obvious feature of this intake is the 100% glass-reinforced silicone construction. By using silicone, this is an intake that actually insulates the air going into the engine. For K-Swaps, this is particularly important since most setups put the cold air intake directly behind the radiator. What many people don't consider is that because aluminum is such a fantastic thermal conductor (hence why it is used in radiators), an aluminum cold air intake will actually absorb heat given off by the radiator. This increases the intake air temperature thus decreasing the motor's performance. The silicone counteracts this by acting as a thermal barrier (much like header wrap)...this leads to lower intake air temps and a denser intake charge. Another benefit of the silicone construction is that there is no need for a coupler at the throttle body. The intake connects to the throttle body with just a single t-bolt clamp, meaning less turbulence as air enters the intake manifold.

A less noticeable but very important feature of this intake is that it works with RBC, RRC, and PRB intake manifolds. Most competing k-swap intakes work with either the PRB intake manifold or the RBC/RRC intake manifolds, but not both. Hybrid Racing took the extra time to create an intake that would work with all 3! On top of that, this kit has been designed to work with OEM k-series throttle bodies AND big bore throttle bodies. The included t-bolt clamp is custom designed to fit both applications.
And who can forget about looks...Everyone knows that with K-Swaps, making power and going fast is the name of the game, but looking good while you do it doesn't hurt either. That's why Hybrid Racing is confident that they have made this one of the cleanest looking intakes on the market. When installed, only the intake tube and a single t-bolt clamp are visible. The hanger that attaches to the chassis is neatly tucked into the driver's side fender for the cleanest install possible.

Notes:
Fits EG/DC/EK chassis only
Does not fit the EF chassis without modification to the lower bracket.
Does not work with center-feed intake manifolds

• Full 3"/76mm inner diameter.
• Glass-reinforced silicone construction.
• Designed to keep intake air temps down
• Includes filter with velocity stack and all mounting hardware.
• Stainless steel t-bolt clamp.
• Works with PRB, RBC & RRC manifolds.
• Cleanest intake on the market.