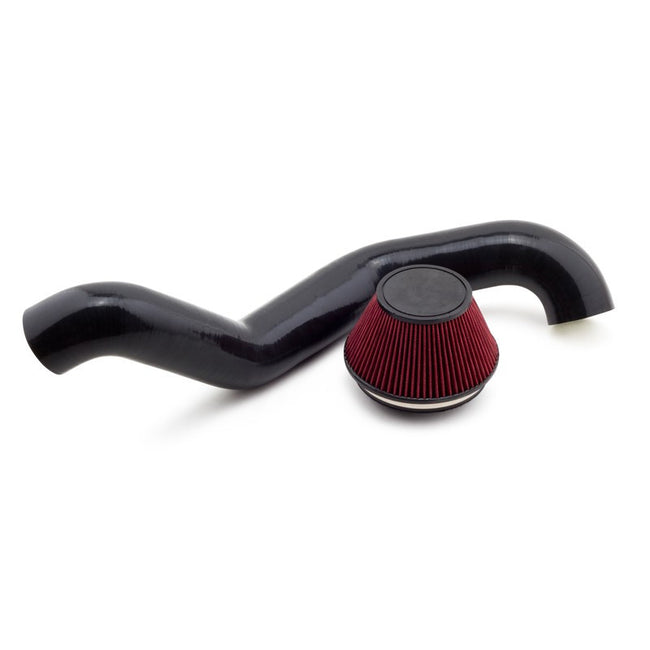 FREE SHIPPING

Designing an intake system with a set of guidelines isn't hard to achieve. However, building an intake system that fits every engine combination while allowing that setup to produce more power is. Hybrid Racing chose to narrow that field and focus on what they consider to be the best recipe for power gains. With the success of the Hybrid Racing eighth generation Civic Si intake system, they have used what was learned and created this system for DC5 RSX owners.
Power is king.
 Due to size constraints inside of the DC5 chassis, the intake system was restricted to a 3-inch design. Combined with the high-flow velocity air filter, this Cold Air Intake System has shown gains of up to 10% (5-10hp) across the powerband compared to a short ram system while significantly reducing intake air temperatures. Don't want to relocate your battery? No problem. The Hybrid Racing RSX intake allows for the battery to stay in the OEM location.
The intake requires a 70mm or larger throttle body and the RBC/RRC style intake manifolds. Fitment or compatibility with an OEM PRB intake is not guaranteed.
Slight trimming of the LH inner fender lining is required, and the removal or relocation of the OEM windshield washer bottle is needed. Alterations to cars running OEM Type R brake cooling ducts may be necessary.
What's included?
x1 3" Hybrid Racing Silicone Cold Air Intake Tube
x1 Velocity Stack Air Filter
x1 Silicone upper radiator hose (for PRB style coolant neck)
x1 Valve cover breather filter
x1 Lower filter bracket
x1 Anti-vibration clamp
x1 Stainless T-bolt clamp
x2 Silicone hoses for breather connections
x2 Machined aluminum push-in fittings
x5 Hose Clamps
x2 Bolts
x3 Washers
Fits:
02-06 Acura RSX / Honda Integra (without brake cooling ducts)
Must use RBC intake manifold & big bore throttle body
Modification to cars equipped with foglights may be required
01-05 Honda Civic Non-Si (K-Swapped)
K-Series engine swap required
Must use RBC intake manifold & big bore throttle body
Modification to the lower bracket may be required
Modification to cars equipped with foglights may be required
02-05 Honda Civic Si
Must use RBC intake manifold & big bore throttle body
Modification to the lower bracket may be required
Modification to cars equipped with foglights may be required