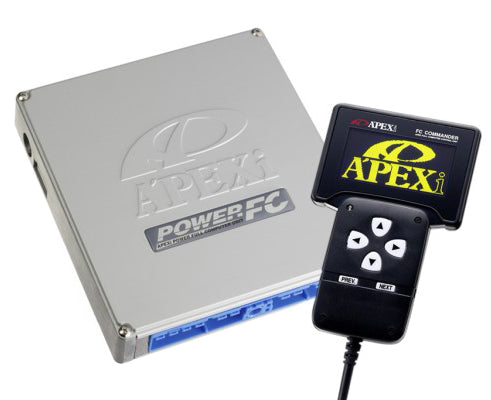 The Power FC proudly stands as A'PEXi's answer to the constraints and limitations associated with many piggy-back style fuel controllers. The Power FC is a complete, stand alone, total engine management system capable of handling virtually anything thrown in its path. From multiple point fuel and ignition control to VTEC engagement (Honda applications) and boost settings, the Power FC is capable of accommodating even the most demanding performance enthusiasts.
The Power FC replaces the factory ECU and controls all vital engine parameters (Off road use only, no OBD-II). Installation is as easy as replacing the factory ECU. (Some minor rewiring is required on select vehicles). The factory engine harness does not need to be replaced and all critical accessories such as air conditioning continue to function. By using the included FC COMMANDER, the user can adjust and modify a wide range of settings. 
As there is no need to upgrade ROM chips, the factory ECU can be kept by the original user. The Power FC also comes pre-programmed with several base maps. (Currently with Japan Domestic Market Vehicle Maps. Minor initial tuning may be required.) This makes the initial tuning process much quicker. As with all other fuel controllers, the POWER FC should be tuned on a dynometer by a trained professional. A high grade air/ fuel ratio monitor is also recommended during tuning to ensure best results.

In Monitor Mode, the Commander can display up to 10 parameters of data in real time.
-Engine RPM
-Ignition Timing
-Vehicle Speed
-Air Flow Voltage (Pressure Sensor Voltage)
-Injector Duty Cycle
-Boost
-Knocking Level
-Battery Voltage
-Intake Air Temperature

Setting Mode allows full access to the 20x20 ignition timing and fuel correction maps. The user can adjust any portion of this map in 5x5 sections using the FC Commander.

The ETC Menu contains utility parameters such as:
-Version information
-Sensor Check
-Function Select
-OLED screen Brightness
-Initialization of all Data
In addition, the ETC Mode allows the user to monitor all factory sensors on one display.

Power FC Kits include: Power FC ECU and FC Commander

OBD2A plugs, adapter neccesary for use on OBD1 or OBD2B vehicle - see drop down menu.